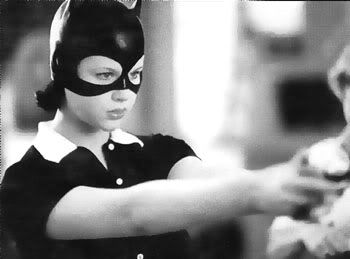 Rebecca: This is so bad it's almost good.
Enid: This is so bad it's gone past good and back to bad again.
Estoy segura de que pude haber escrito el guion de Ghost world, o por lo menos ese mini dialogo entre Enid y Rebecca, es como mi manera de ver la vida, es tan mala que es buena, pero regresa a ser mala, pero el punto es que es una comedia de humor negro, una broma pesada, pero broma al fin y hay que reirse.
Ademas de que me siento en el punto que Rebecca y Enid cuando terminan la high school y tienen que decidir que hacer con su vida, seria bueno escribir un guion jaja... o minimo comprarme una mascara de Catwoman leather en alguna sex shop...
Como sea, estoy viviendo en mi mundo fantasma y aqui se vive bien.