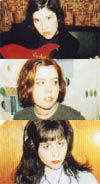 And when your body finally starts to let go
let it all go at once, not piece by piece
just like a whole bucket of stars dumped into the universe.
Whooo! watch it go!
good-bye small hands
good-bye small heart
good-bye small head!
My soul is climbing tree trunks
and swinging from every branch.
(...)
I hit the mark!
I target moon, I target sky, I target sun.
Fall down on the world before it falls on you.
Like beggars, like stars
like whores, us all
like beggars, like dogs
like stars, us all.
Shoot straight for my heart
(and when you were near no sky was ever quite so clear)
Like stars, so small
like us, when we fall
like beggars, like whores
like lovers, get up!
get up... too far.
"get up" de Sleater-Kinney, sólo porque estaba en el mood de la canción, de repente hay algo como una piedrita que me tira de repente todo lo que tengo, como un vacío curiosito que no sé con qué llenar, y cuando eso pasa sólo pienso en dejar todo ir, como una cubeta de estrellas en el universo... ¡adiós mente pequeña! ¡adiós corazón chiquito!