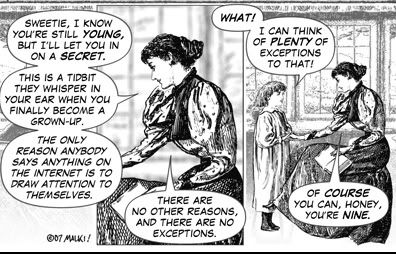 Apoyo la moción del strip de Wondermark, esto se ha salido de control, amo el internet tanto como lo odio, necesito dejar de caer en sus sucios trucos, ya no es tan sano y divertido como solía ser.
Y aplica en todos los sentidos, como dice Fry de Futurama:
"thanks to the internet, I´m now tired of sex and porn."
O tal vez es que ya crecí.
Espero no me cierren el blog por usar esta imagen sin permiso ja! pero tenía que ponerla.